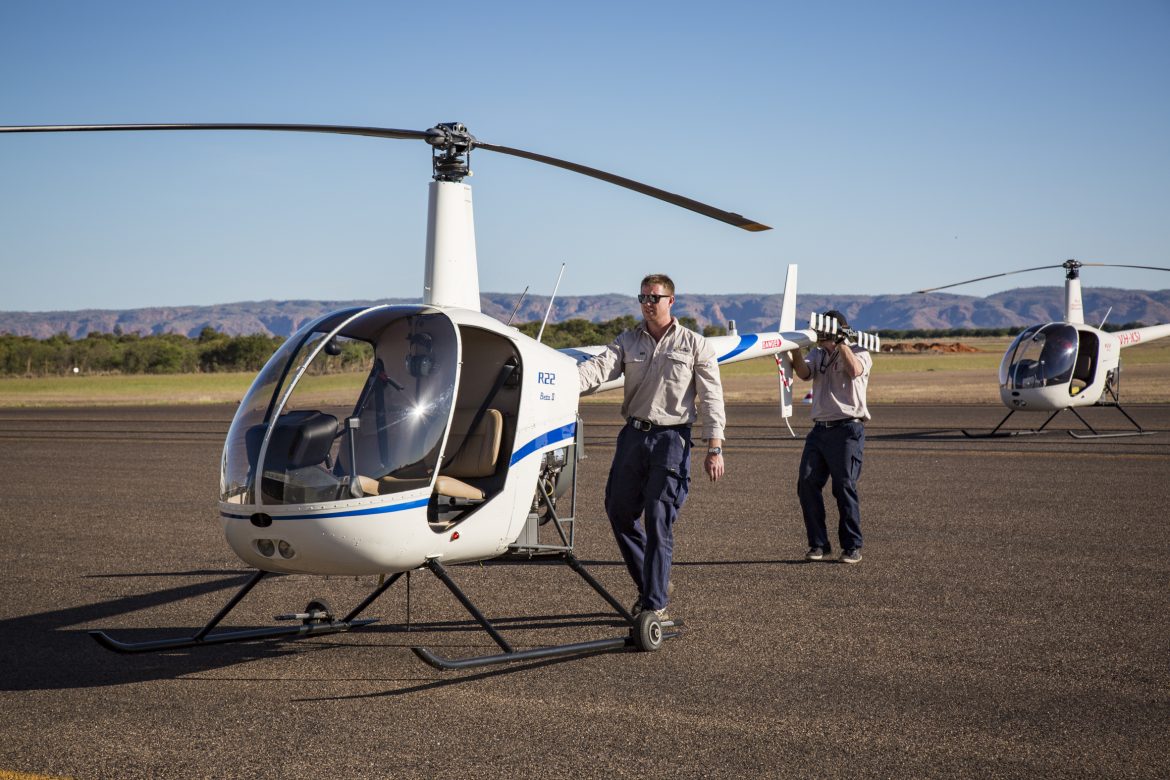 Completing your Commercial Pilots Licence with the Australian Helicopter Academy provides a number of unique benefits:
Post-training Employment Opportunities
Modern Training Facilities
Experienced Industry Professional Instructors
The Kimberley Lifestyle

POST-TRAINING EMPLOYMENT OPPORTUNITIES
HeliSpirit will select the most dedicated and promising CPL candidates from Australian Helicopter Academy and offer employment as a commercial helicopter pilot. HeliSpirit has an extremely busy scenic tour season which gives pilots valuable log book hours and experience to lead into a great start into commercial operations.
HeliSpirit's selection criteria is based on flying skills, attitude, professionalism, teamwork and an overarching commitment to high levels of safety. Well developed people skills and friendly customer service are attributes necessary in HeliSpirit commercial pilots. Australian Helicopter Academy will shape you into a safe and skilled pilot in a very rewarding and satisfying environment.
When you graduate you will be ready for employment, with a fully comprehensive skill base which will be seen by prospective employers as a cut above the rest. Our instructors also have many contacts within the helicopter industry to help you pursue other employment opportunities.

MODERN TRAINING FACILITIES
With new facilities, including a purpose-built study room and modern classroom which overlooks the busy maintenance facility of HeliSpirit, it is an exciting place to learn to fly. AHA operates a fleet of immaculate training helicopters including the Robinson R22.

EXPERIENCED INSTRUCTORS
Instructors at the Australian Helicopter Academy (AHA) have a vast and wide range of experience. Having flown for commercial operators throughout Australia and overseas in a large scope of operations including; cattle mustering, charter, filming/photography, feral animal control, fire-fighting, mining exploration/drill moves, heli-logging, powerline inspections and flight training, just to name a few! This can give you a distinct insight into many facets of the aviation industry. During training we can highlight the skills needed to perform particular operations and help guide you on the journey to attain your goals and aspirations as a professional helicopter pilot.
THE KIMBERLEY LIFESTYLE
Kununurra is a gateway town to the East Kimberley region which has some of the world's most ancient and untouched landscapes. The Shire of Wyndham East Kimberley covers an area of a massive 117,514 square kilometres. The East Kimberley region is renowned for its spectacular wild and natural beauty and often referred to as the 'Last Frontier'. With huge watercourses and mountain ranges, outdoor adventure is at your fingertips. Life in Kununurra and surrounds consists of; exploring, 4WDing, fishing, waterskiing, wakeboarding, hiking, abseiling and swimming. As well as this, the region offers the perfect locations to simply soak up the laid-back vibe of the area.